An Insightful Talent Matching Tool Introduction Workshop by Generation X CLAP@JC
Are you struggling to find the perfect candidate? Are you looking for a talent matching tool targeted at young people?" If you have the above questions in your mind, this webinar you should not miss.
Cityray HRCC invited Generation and CLAP@JC to introduce useful tools, CV360® & VASK model, for recruiters to evaluate the candidates and set your criteria of job vacancy. In this webinar, you can :
Learn about the CSV and CSR of talent matching under CLAP@JC

Know more about the HR tool CV360® and VASK and its' application

Link up with the pool of CV360® featured work ready talents of Generation and NGO partners
Date : 29th April 2022
Time : 2:30pm – 4:00pm
The workshop will provide solutions to your talent matching challenges, and introduce a new talent matching tool for you to choose from. If you have not registered yet, please take the opportunity to register. The agenda of the day as follows:
Introduction of CLAP@JC's aim and objective and CV360®

Introduction of Generation

A glimpse of CV360® and VASK through activities

Usage of CV360® and VASK for employers

User experience sharing on CV360® from employers and graduates

Introduction of Generation X CLAP@JC programme

Further information on CV360®

Linking up with talents with CV360® under Generation X CLAP@JC and other NGOs
Register now by filling in the Microsoft form with the link below. A Zoom link will be sent to you a week before the event.
For more information on CLAP@JC and CV360®, please visit https://clap.hk/
Generation 及「賽馬會鼓掌 · 創你程計劃」

為你帶來精髓的人才匹配工具簡介研討會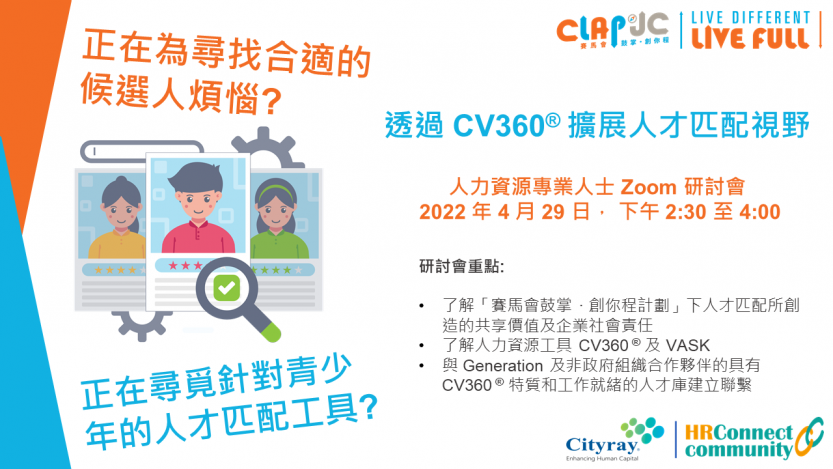 你是否在為尋找合適的候選人煩惱?你是否在尋覓針對青少年的人才匹配工具?如果你有上述疑難,那麼你不應錯過此網上研討會。
施特偉 HRCC邀請 Generation 及「賽馬會鼓掌 · 創你程計劃」介紹有用的工具,CV360® 及 VASK 模型,供招聘人員評估候選人並設定你的職位空缺標準。在此網上研討會中,你可以:
了解「賽馬會鼓掌

·

創你程計劃」下人才匹配所創造的共享價

值

及企業社會責任

了解人力資源工具

CV360®

及

VASK以及其特點
與 Generation 及非政府組織合作夥伴具有

CV360®

特質和已準備好投入工作的人才建立聯繫,在人才庫中尋找合適的人才
日期:2022年 4月 29日
時間:下午 2:30 至 4:00
這網上研討會可為你解答人才配對所遇到的難題,以及為你介紹一套新的人才匹配工具作選擇。如未報名的你,請把握機會報名登記。當日流程如下:
介紹「賽馬會鼓掌

·

創你程計劃」的宗旨和目標及

CV360®

介紹

Generation

通過活動感受

CV360®

及

VASK

CV360®

及

VASK

能為雇主帶來的用途

雇主及畢業生的

CV360®

用戶體驗分享

介紹

Generation X

「賽馬會鼓掌

·

創你程計劃」計劃

有關

CV360®

的更多資訊

與G

eneration X「賽馬會鼓掌

·

創你程計劃」及其他非政府組織使用

CV360®

的人才建立聯繫
立即透過以下鏈結填寫登記表格。Zoom鏈結將於研討會前一周發出。
如欲了解更多「賽馬會鼓掌 · 創你程計劃」及 CV360® 資訊,請瀏覽 https://clap.hk/