2022 Guangdong-Hong Kong-Macao Greater Bay Area Pay and Benefits Survey Results Overview
October 27, 2022
Hana Chan
2022 is a year full of changes. It marks the 25th anniversary of the establishment of the HKSAR, 3rd year of COVID-19, Hong Kong's travel restrictions relaxing and more. How do the changes affect pay trends, talent development and recruitment for different industries?
On 20th October 2022, the Centre for Human Resources Strategy and Development School of Business Hong Kong Baptist University, the School of Business of South China University of Technology, the Hong Kong People Management Association and the Talent Development and Management Association of Guangdong co-organised the annual 2022 Guangdong-Hong Kong-Macao Greater Bay Area Pay and Benefits Survey Results Presentation Cum Seminar. With 281 organisations participated in the Survey, covering over 213,000 employees. The Survey covers the annual pay index, fresh graduate pay, rewards program, allowances, employee benefits, personnel movement, and pay adjustment.
Turnover:
Hong Kong had a 0.9% increase in the overall turnover percentage in 2022 compared to 2021. For the Greater Bay Area, the overall turnover percentage in 2022 has a 10.3% decrease compared to 2021 and over 50% decrease in overall turnover percentage for operative staff. The top two reasons for leaving were career/ promotion prospects and pay.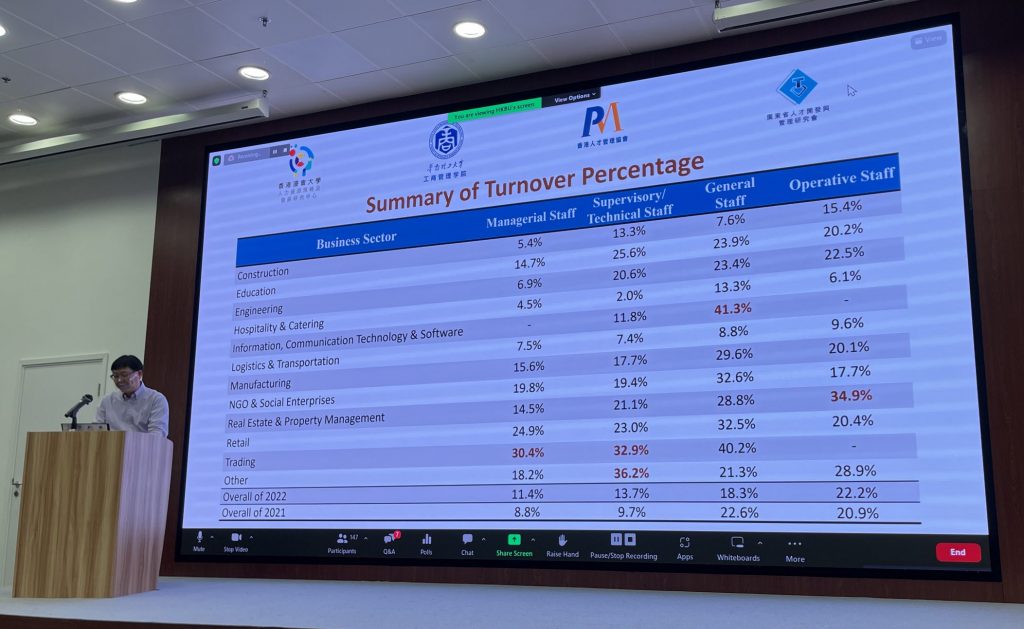 Salary Review:
Hong Kong's actual overall salary adjustment ranges from 3.0% to 3.3%, a 70% increase compared to last year's 1.3% to 2.1%, indicating Hong Kong's businesses are getting back on track. For the Greater Bay Area, there is a slight decrease in the actual overall salary review, from 5.8% – 5.2% (2021) to 4.5% – 5.2% (2022). The top two salary review criteria are the organisation's overall performance and individual performance. The board projects next year's salary adjustment for Hong Kong would remain in a similar range but with a slight decrease for the Greater Bay Area (4.1% – 4.4%).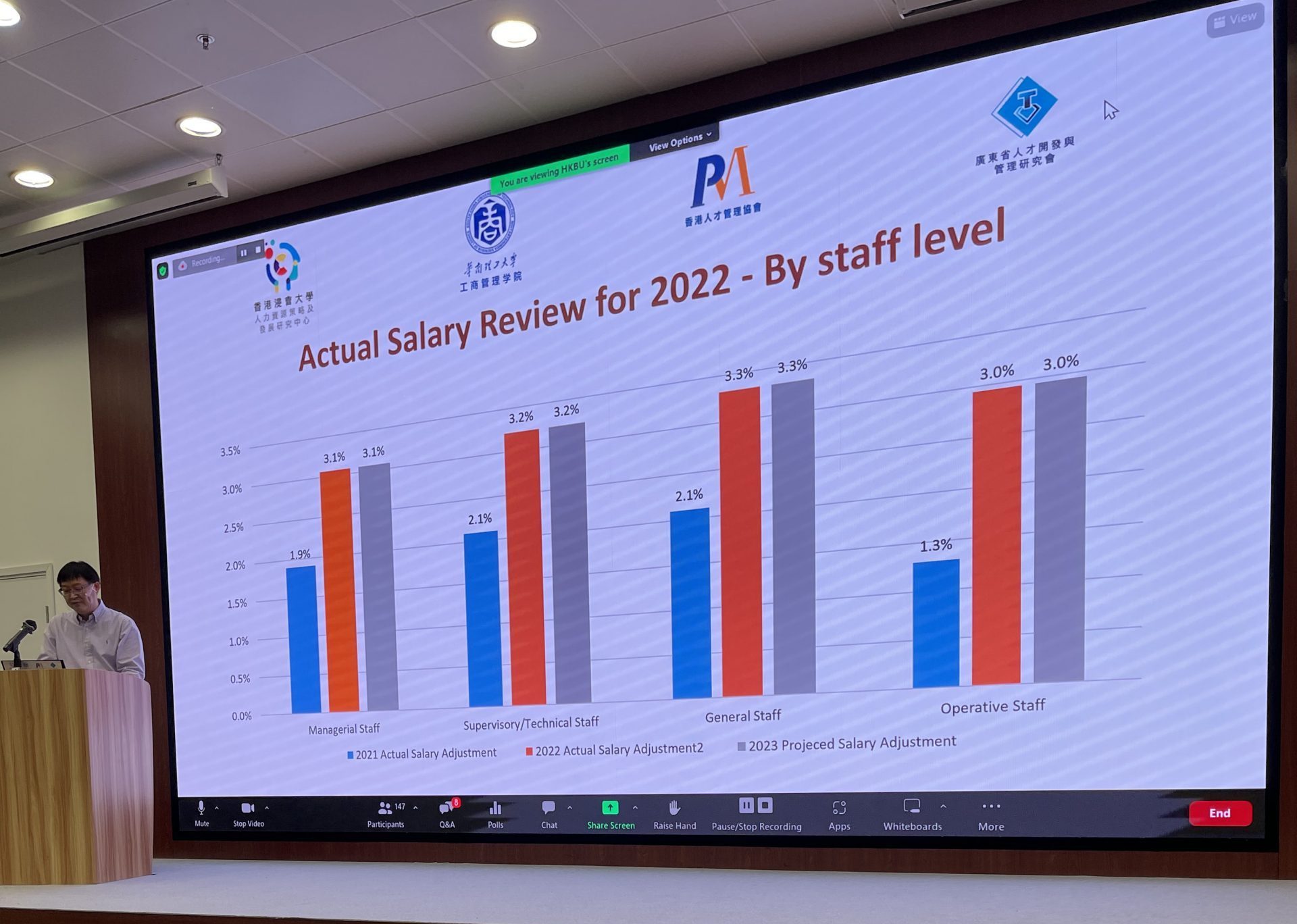 Fresh Graduate Starting Salary:
The two reigning industries with the highest pay for Hong Kong's fresh graduates remained unchanged from last year's, engineering ($18,495) and I.T. ($18,266). This year, research & development took third place with starting salary of $17,500. For the Greater Bay Area, the top three industries with the highest starting pay for fresh graduates are research & development (¥7,415), I.T. (¥6,854) and engineering (¥6,472). Compared to 2021, Hong Kong and the Greater Bay Area had a 9.3% and 2.4% overall increase.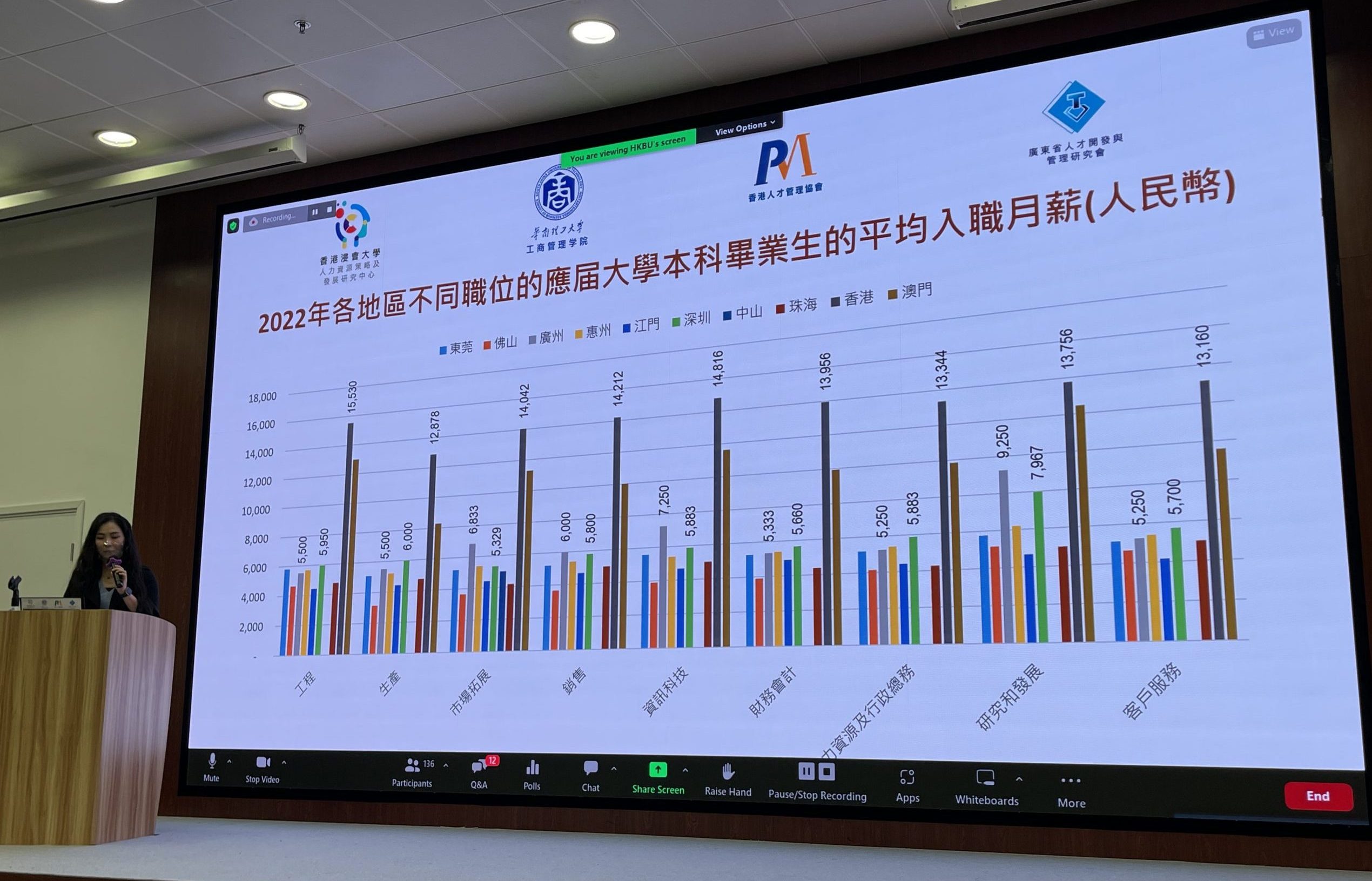 Working Arrangement during COVID-19:
Although implementing flexible working arrangements come with faults, such as unstable staff performance and management difficulties, 40.4% of organisations offer flexible work schedules and 24.2% offer hybrid (at least 3-days in office) working arrangements.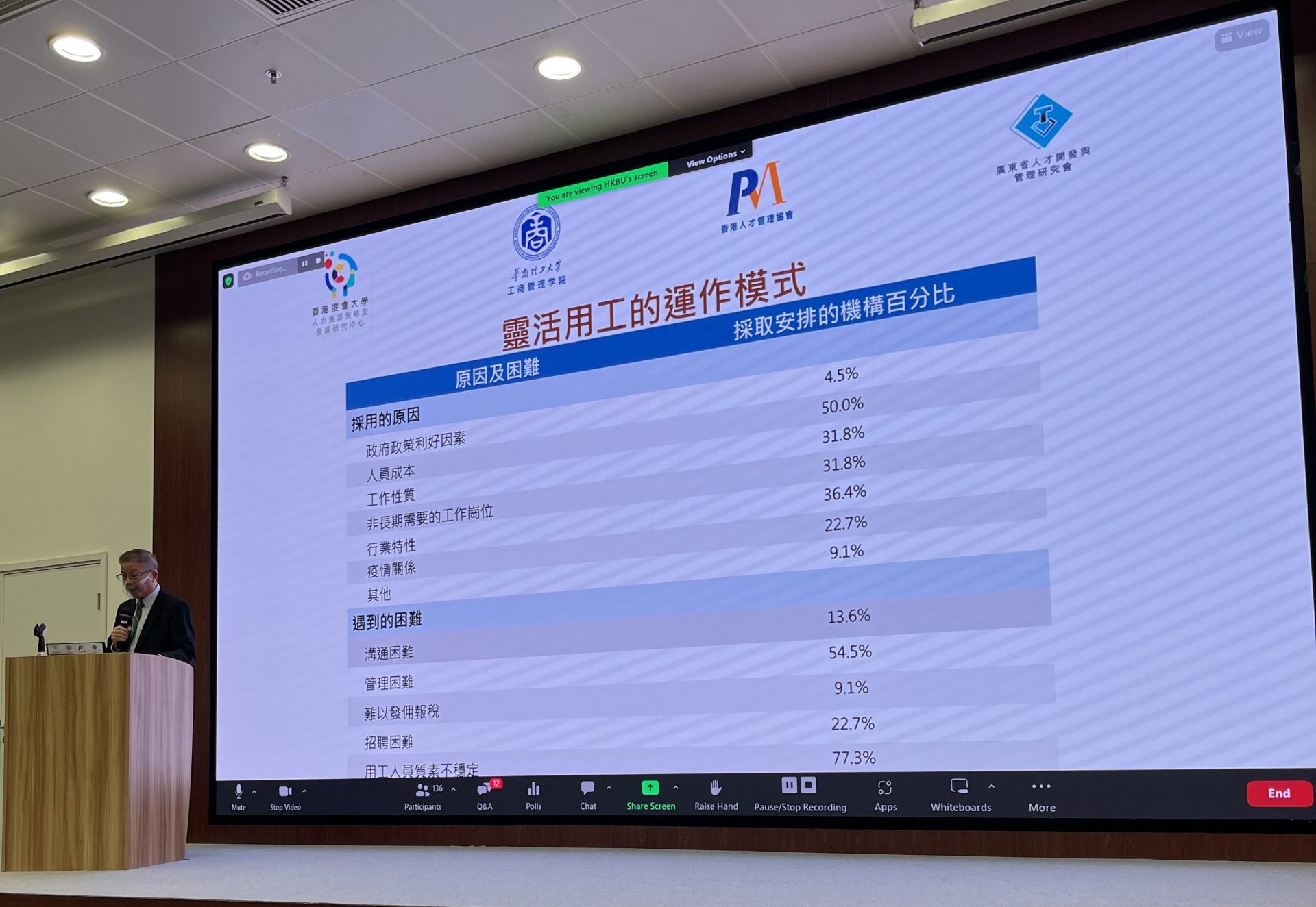 Incentive Schemes:
The top two incentive schemes provided by participating organisations in Hong Kong across all company levels are variable bonuses (58.8%) and guaranteed bonuses (43.6%). For Greater Bay Area, they are overseas training (61.0%) and full attendance bonuses (50.8%).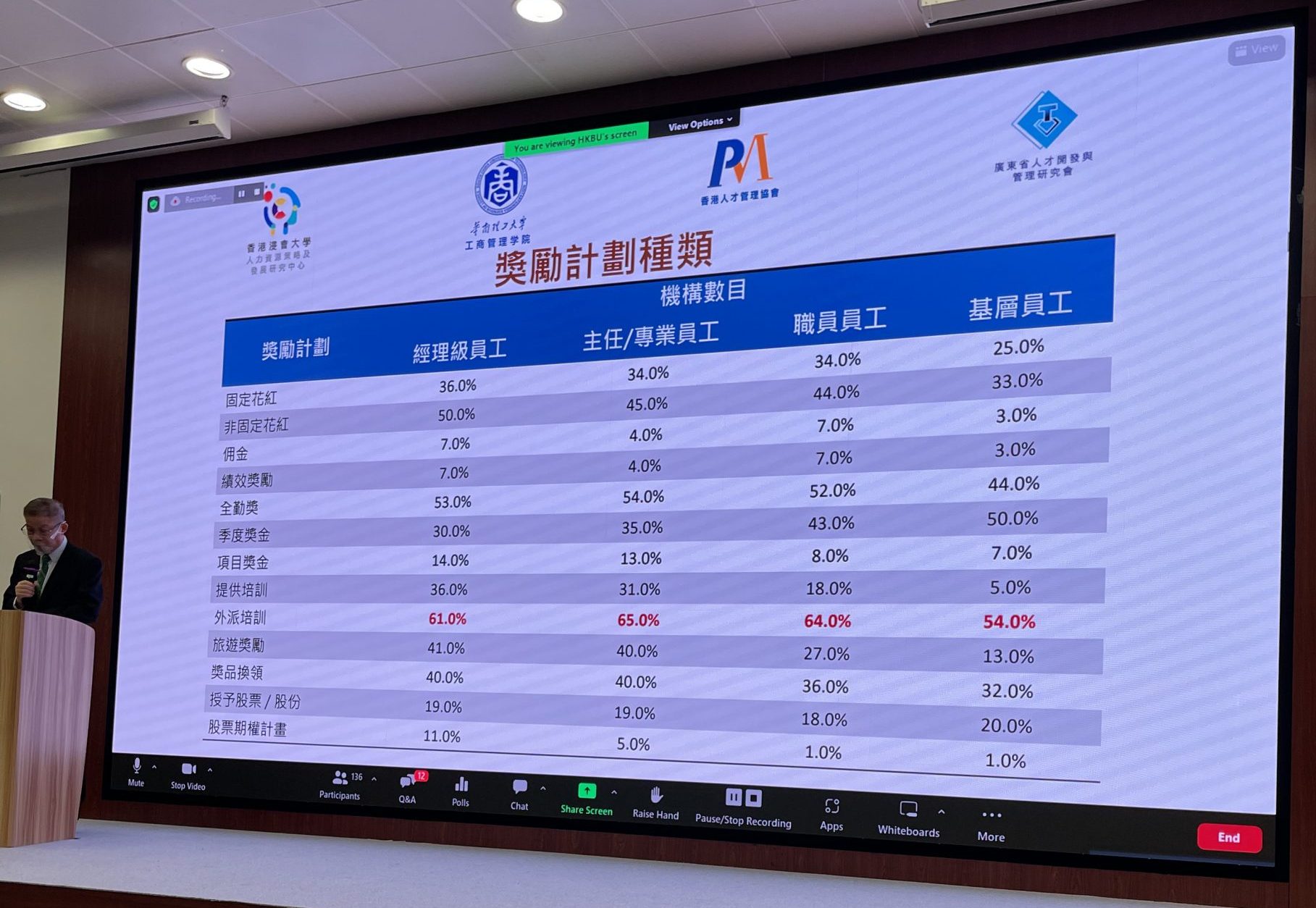 Cityray's excellent HR technology professions have been acknowledged by the Hong Kong Baptist University and the Hong Kong People Management Association, which have been appointed as the technical partner of the Survey since 2019. This year, for the first time, HRConnect Community (HRCC), an HR networking community managed by Cityray, was appointed as one of the supporting organisations of a public conference, jointly creating a new milestone for both Guangdong-Hong Kong-Macao Greater Bay Area Pay and Benefits Survey and Cityray.
If you are interested in the full survey reports of the different regions, please order via the link below.
https://hkbuhk.ca1.qualtrics.com/jfe/form/SV_ePbp9ebJdSez954