Vast Knowledge in Macau Policy – Grand Hyatt Macau Chose Cityray to Upgrade Their HRMS
September 12, 2023
Niki NG
Grand Hyatt Macau, a 5-star hotel located within City of Dream in Macau, also known as Las Vegas of the East. When Grand Hyatt Macau is mentioned, while their top luxury accommodation, high-end dining, shopping, entertainment and nightlife are often praise about, The House of Dancing Water Show is what people mention most.
Grand Hyatt Macau has been Cityray's client since 2009 during their pre-opening stage. Cityray has been providing attentive support services to tackle any issues brought forward by Grand Hyatt Macau, making sure the system is performing at its top efficiency, and aligning with the changes in the market policy.
Currently, they have been using HRPLUS® V9 and ESS e-Leave module for their daily operation. As the system's modules are snychroized with one and other, providing accurate payroll calculation as everything is taken into account and well recorded. Hence, Cityray is honoured to be chosen to upgrade their HRMS with e-Attendance module.
In March 2022, Cityray is honoured to receive a recognition letter from Grand Hyatt Macau, thanking Cityray's dedication in providing well-rounded HRMS and services. Cityray will continue to strive for creating values and providing whole-rounded HR technology for clients.
精通澳門政策 – 澳門君悅酒店選擇施特偉 升級其人力資源管理系統
澳門君悅酒店是一家五星級酒店,位於澳門新濠天地,也被稱為東方拉斯維加斯。當提起澳門君悅酒店,在其頂級豪華住宿、高端餐飲、購物、娛樂和夜生活都屢屢被讚嘆的同時,水舞間是人們最關注的話題。
從2009年開業前至今,澳門君悅酒店一直是施特偉的客戶。 施特偉一直提供周到的支援服務,以解決澳門君悅酒店提出的任何問題,確保系統以最高效率運行,並迎合市場政策的變化。
目前,他們在使用 HRPLUS® V9 和 ESS e-Leave 模塊進行日常操作。由於系統的每個模塊與其他同步,提供準確的工資計算,因為所有的數據都被用在計算內並完善記錄。因此,施特偉很榮幸被選為其升級人力資源管理系統及增加e-Attendance模塊。
2022 年 3 月,施特偉很榮幸收到澳門君悅酒店的表揚函,感謝施特偉致力於提供全面的人力資源管理系統和服務。 施特偉將繼續努力為客戶創造價值,以及全方位的人力資源技術。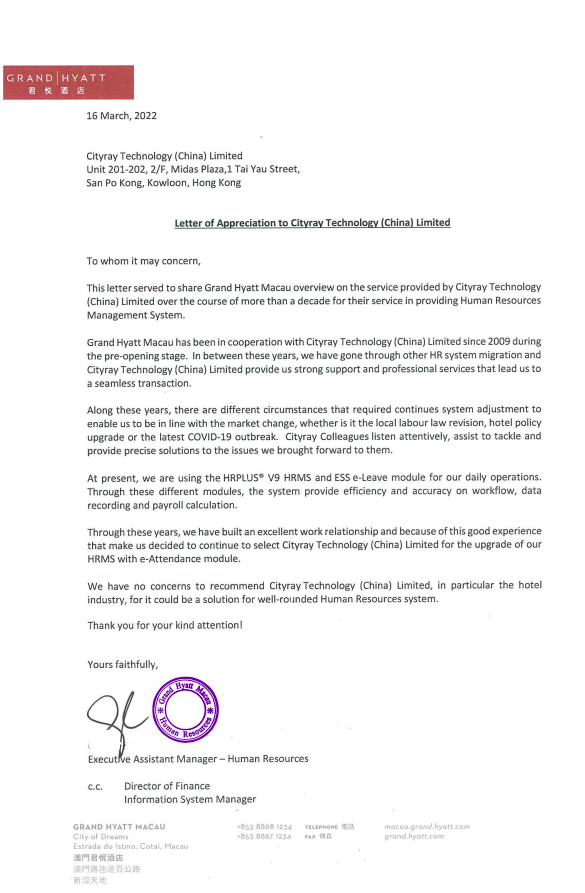 Tel : (852) 2111 7111   |   Email : enquiry@cityray.com   |   Cityray.com
#施特偉 #人力資源科技 #人力資源 #澳門君悅酒店 #hris #hrms #強化人力資本 #薪酬管理