Luxury Meets Comfort. Catered an All-in-One HR Management Solution for K11 ARTUS Sophisticated Management
As one of the developments of the Victoria Dockside, K11 ARTUS is located in the bustling tourist area of Tsim Sha Tsui. It offers high-ended hotel-style serviced apartments for guests to feel very much at home with a sense of comfort. ​
With an extensive understanding of the operation in the hotel industry under our belt, Cityray has won K11 ARTUS trust and has become their HR-Tech partner since 2019. Since K11 ARTUS adopted iHRPLUS® EVO 6 to their operation, most applications are digitalised and synchronised with the payroll module of the system, enhancing the work efficiency of their HR department.​
To further enhance the comprehensiveness of their HR management, K11 ARTUS also adopted ESS for staff to view their roster and apply leaves through the platform. HR staff could review and approve leave applications simply with a click, reducing manual filing from HR staff.​
In May 2022, Cityray is honoured to receive an appreciation letter from K11 ARTUS, expressing their gratitude toward Cityray's HRMS and services throughout our partnership, especially during the pandemic.  As a customer-oriented corporation, Cityray provides clients with the utmost services and solutions to satisfy their needs.​
Tel : (852) 2111 7111   |   Email : enquiry@cityray.com   |   Cityray.com    ​
#cityray #hrtech #hr #k11artus #hris #hrms #enhancinghumancapital #payroll  
​匯聚​奢華與舒適,為K11 ARTUS高質管理提供一站式人力資源管理方案​
作為 Victoria Dockside 的發展項目之一的K11 ARTUS,建於尖沙咀繁華的旅遊區,為顧客提供高級的酒店式公寓,讓顧客有賓至如歸的舒適感。​
施特偉憑藉對酒店業運作的細緻了解,成功贏得K11 ARTUS的信任,並自2019年起成為其技術合作夥伴。自從 K11 ARTUS 在其運營中採用了 iHRPLUS® EVO 6,大多數應用都已電子化並應用於薪酬計算內,從而提高了人力資源部門的工作效率。​
為進一步提升人力資源管理的全面性,K11 ARTUS 還採用 ESS,讓員工可透過平台查看考勤和請假。HR員工通過系統審核及批核請假申請,減省HR員工手動歸檔。​
施特偉於2022年5月榮獲K11 ARTUS 的感謝函,對施特偉提供的全面的系統及服務表示感謝,尤其疫情期間。施特偉一直堅守以客為本,為客戶提供最優質的服務及方案,以達成他們所需。​
Tel : (852) 2111 7111   |   Email : enquiry@cityray.com   |   Cityray.com​
#施特偉 #人力資源科技 #人力資源 #k11artus #hris #hrms #強化人力資本 #薪酬管理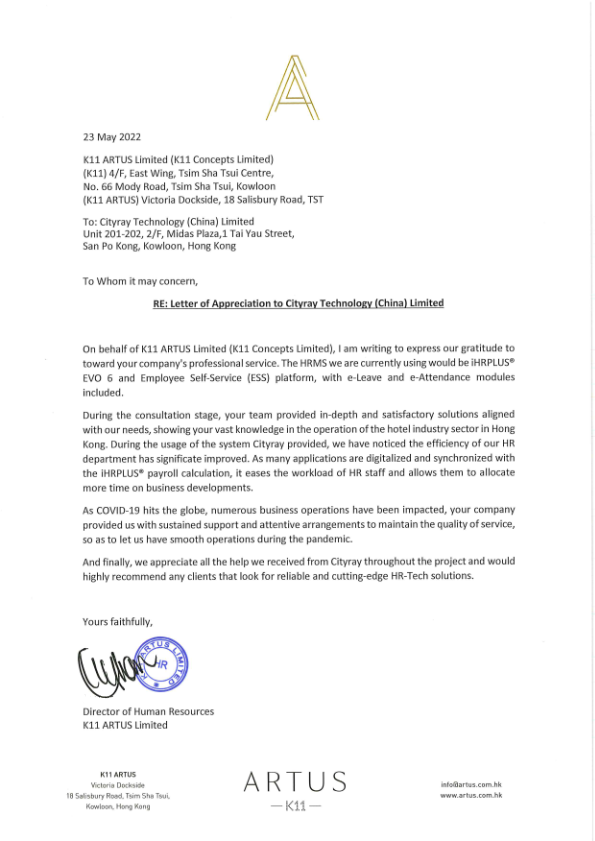 ​