Digitalise HR Management Process – Veeko Chose Cityray to
September 19, 2023
Niki NG
Veeko, a well-known local women's fashion brand in Hong Kong since 1984. It offers a wide range of voguish and sophisticated office attire inspired by the world's latest fashion trends for working ladies of all ages at a favourable price. In 2004, it further expanded its business interest in cosmetics.
In 2017, Veeko chose Cityray as its HRMS vendor. Since adapting iHRPLUS® EVO 6 and eAttendance module to their daily operations, the system has automated their existing payroll calculation process with attendance records considered, enhancing their HR efficiency and reducing manual input.
Cityray has been providing Veeko with professional and attentive support services, ensuring the system is working in its best condition and aligning with their needs. During the implementation stage, Cityray's project team provided timely supports to ensure the system tackles all their daily operational pain points.
Cityray is honoured to receive a recognition letter from Veeko in October 2021, expressing their appreciation toward Cityray's HRMS and services. Cityray will continue to be client-oriented, provide more efficient HR solutions to our clients.
人力資源管理流程智能化 – 威高選擇施特偉來管理其薪酬計算和考勤記錄
威高於 1984 年創立,是本港知名女裝品牌。它為各年齡層的職場女性提供一系列以世界最新流行趨勢為靈感的時尚精緻的辦公室裝束。在 2004年,進一步擴展商機,進軍化妝品零售業務。
在2017 年,威高選擇施特偉作為其人力資源管理系統供應商。 自從將 iHRPLUS® EVO 6 和 eAttendance 模塊應用到他們的日常運營中以來,該系統已經將其現有的薪酬計算流程智能化,並納入考勤記錄於其中,從而提高了其人力資源效率並減少了人工輸入。
施特偉一直為威高提供專業和周到的支援服務,確保系統處於最佳狀態並達到其需求。 在實施階段,施特偉的項目團隊及時提供支援及解決方案,以確保系統能解決其所有日常運營痛點。
施特偉很榮幸在 2021 年 10 月收到威高的致謝信,表達了他們對施特偉的人力資源管理系統和服務的讚賞。 施特偉將繼續以客戶為導向,為客戶提供更高效的人力資源解決方案。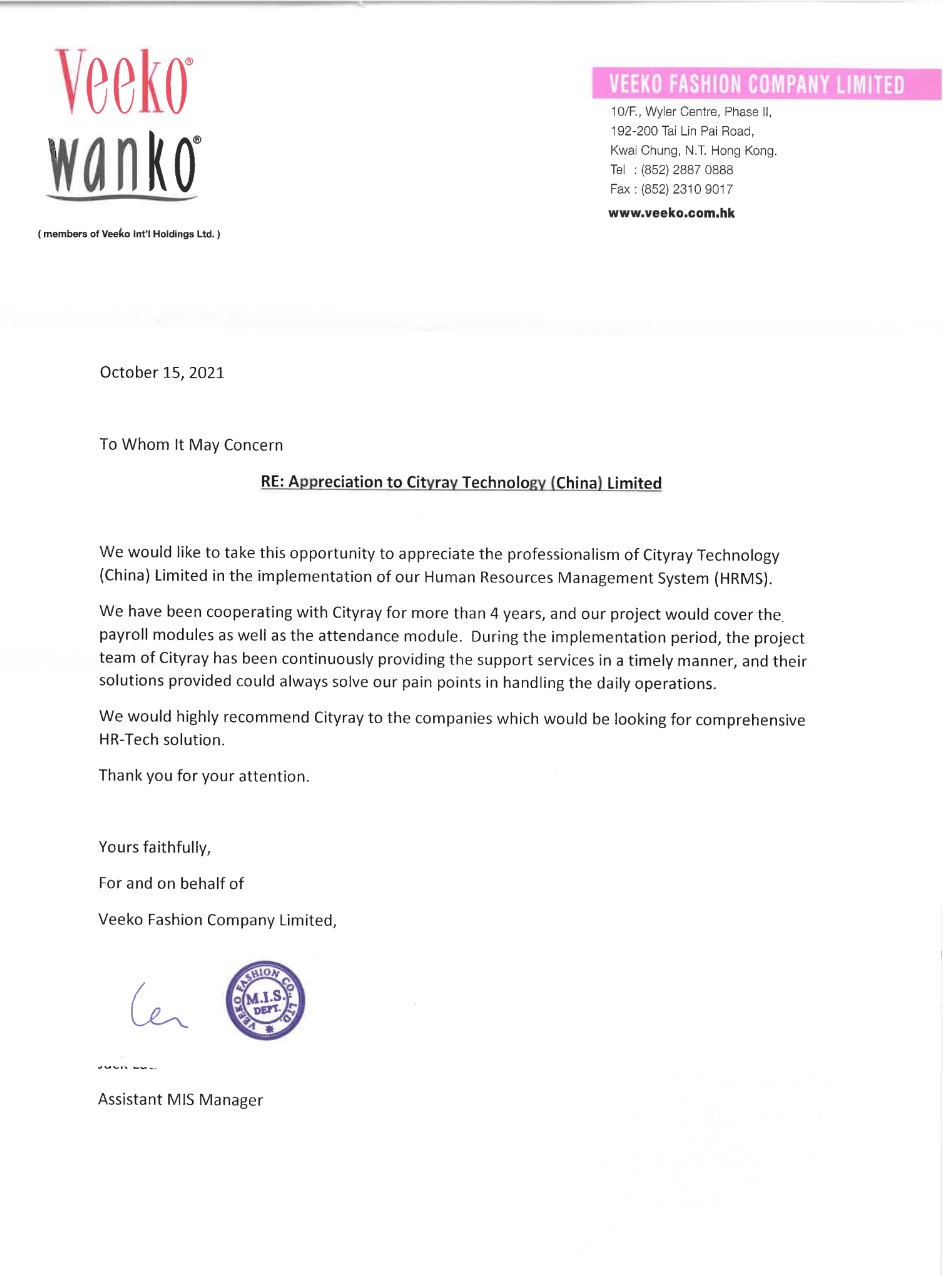 Tel : (852) 2111 7111   |   Email : enquiry@cityray.com   |   Cityray.com
#cityray #hrtech #hr #veeko #hris #hrms #enhancinghumancapital #payroll